Do you want to find the best tags for your YouTube videos? In the last article, I showed you how to use the YouTube Tag Generator to generate instantly a list of tags specific to your post. Be sure to check the link in the more description. Or you can start by checking what tags are used by other popular videos on YouTube related to your topic. That should give you a good idea of what kind of tags actually work on YouTube.
Of course that sounds great in theory, but it isn't actually very helpful. So to start, why not check out what other top ranking videos in your niche are using for tags. That'll give you a good idea of where you can start for your videos. However, YouTube now hides the tags on people's videos, so unless you have access to their account, you can't see what tags they're using unless you have a special tool. There are other tools like this, but most of them are not free. So today I'm going to show you a free tool that can let you extract the tags from any public video on YouTube. So this is the tool. Just copy and paste the URL of the video that you're looking for the tags from.
And there are the results. As I said in the previous article, if you read that, you'll want to go through these and make sure that you do delete any that you don't want to include. For example, if I was reviewing an OC monitor, I might not want to include port keys as a keyword. Then you can just click copy to clipboard and paste them into your video tag section. Now from that list, you can choose the best ones that are the most appropriate for your video like YouTube recommends. And then if you want to find a larger list, you can use the tags generator to go from there. Once again, be sure to check out the link for that in the tool link.
How to use Yttags's Youtube Tag Extractor?

Step 2: Paste Your URL for Extract Meta Tags…

Step 3: Click on Find Button

Step 4: Check Your Youtube Tag Extractor Result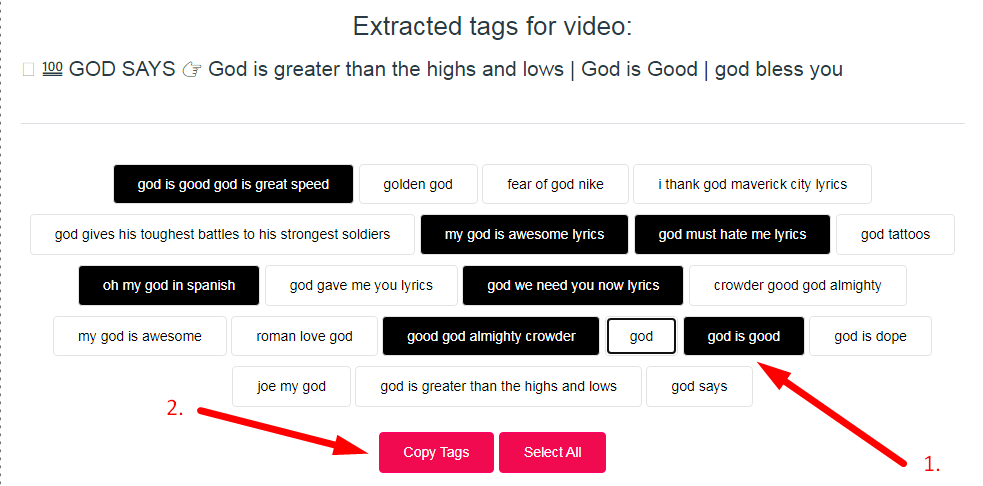 ---